Exercise
Twice this week. That second day kicked my butt
Read
The Alchemist by Paulo Coehlo
Black Heels to Tractor Wheels by Ree Drummond (you might know her as The Pioneer Woman. Let me know if this rings a bell)
Memorable TV Watched
Southland. This weeks plot? I have no idea. Ben McKenzie's sleeves were cut short as to show off his biceps. I didn't pay much attention to anything else.
Memorable Eats
I made cinnamon rolls. Then the hubs and I got sick from the gluten and sugar. But they were fantastic for the 20 minutes before we got sick and swore off all things sugar and bread.
Chili was tasty. We've been eating that for lunch for 3 days now. Thankfully it's almost gone and I only make it once a year. (Why I am incapable of cooking smaller batches of stuff?)
Zucchini/Squash saute with jalapeno. Mighty tasty.
Baked Chicken Drumsticks. Always a hit with the kids
Baked Salmon. Salt, pepper and lemon are a magical combination.

Going into next week
Continue: no sugar, carbs, rice, pasta, potato, soda or gluten (I've been doing extremely well on all fronts, except for said cinnamon roll)
Cut down on: coffee, dairy (I eat way too much cheese. Mindless nibbles. Those Babybel cheeses are nirvana in red wax.)
Cut out: meat. Going through a meat aversion stage. This girl right here? Part-Time Vegetarian
Participate: Soup-a-palooza. I love soup. I have a good one. It's a versatile recipe and I make some variation of it once a week. (do you have a soup recipe? Visit DineandDish.net for the deets. And kudos to me for letting you know ahead of time)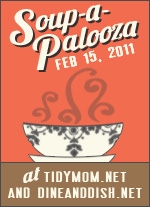 Valentines: Get 32 valentines done for kids. I'm so relieved there will not be a party in their classrooms so I don't have to provide food or drinks. The school will have an all day reading blitz with snacks provided by the PTA. (except here they add in an "S" so it's the PTSA, but that doesn't have the same ring to it and pronounced it sounds like Pizza. Mmmmm...pizza)
Leprechaun Trap: Brandon needs to make a trap by March 11th. I refuse to wait until March 10th at 11:00 pm. Last year I made helped Caedon make a pretty kick-ass leprechaun trap. The bar has been set high.